Study with Sam at his private studio in Miami, Florida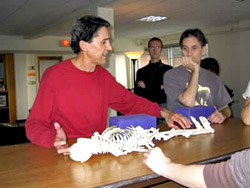 While dealing with issues of recovery and rebuilding my health, I've been in relative seclusion since 1999 teaching private lessons almost exclusively in our Miami home studio. During these years, I've been studying the mechanics of yoga, and have been thinking of ways to adapt our western conventional approaches to yoga in a creative and workable way.
The methodology and results have been dramatic and are described in my third book, The Mechanics of Yoga, on which my teaching is now based.
Click here for private individual lessons in my studio: