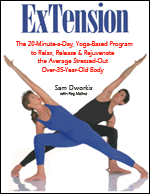 ExTension Yoga was my first book. Using the menu to your left, you can access excerpts, reviews, and buy a copy of my book.
"The gentle yet rigorous discipline of yoga has been used for thousands of years to condition the body and relax the mind. In adapting this ancient system to the Western body and lifestyle, Sam Dworkis has created ExTension, an easy-to-follow sequence of exercises that will enhance every facet of your physical and emotional fitness without creating or exacerbating pre-existing injury.
Practiced slowly the ExTension Yoga system will relax you, and practiced aerobically, it will condition you and burn fat. In only twenty to thirty minutes a day using no equipment and little space, you can:
Reduce stress and relieve tension
Enhance your energy and concentration
Flatten your belly and firm your arms and thighs
Increase your strength and endurance
Improve your flexibility and improve your posture
With over 200 photographs and step-by-step instructions, ExTension Yoga makes yoga, the most perfect exercise; EASY no matter what kind of shape you're in.
ExTension Yoga is the perfect exercise program for anyone who feels too out of shape, too old, too lazy, or too busy to exercise."
---
ExTension Yoga Excerpts
"Flexibility is simply NOT a requirement to successfully practice this program. Enhanced flexibility, strength and endurance are but a result of an appropriate yoga practice."...
For more ExTension Yoga excerpts, Click Here.
---
ExTension Reviews
International Fitness Association (IFA)

"If you are looking for yoga or active stretches you simply must take a look at ExTension Yoga. This is a fantastic book of yoga exercises. Each exercise is very well explained along with instructions on what to do if you don't seem to feel the stretch, or think you are feeling it in the wrong place. It is chock-full of useful information and is very well written. ... Read More